Outdoor fun is the order of the day at Tenmile Lakes and Lakeside. Whether fishing for the big one, cruising the lake, or riding the dunes, you'll find a comfortable spot from the scenic private and public camping facilities in the area.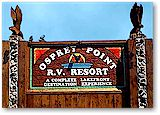 Lakeside RV Parks
Osprey Point RV Park
1505 North Lake Road
Lakeshore Lodge RV
2110 North Lake Rd

Osprey Point RV Park Big-rig friendly spaces! Paved pads and all amenities including instant phone service. Everything is just a short stroll away at Osprey Point. Laundry & restrooms, barber & beauty shop, boat dock, shopping and more, all on the shores of Tenmile Lakes.
Lakeside Camping
Spinreel
Eel Creek Campground
Tugman State Park