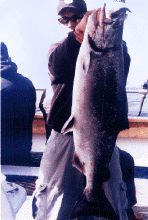 Tenmile Lakes is the 5th most popular lake in Oregon and host to a variety of fishing opportunities including salmon, steelhead, large mouth bass, trout, crappie, and blue gill. Quality fishing can be found in both the north and south lakes. Oregon bass fishing generally begins in late March and early April. It is not uncommon to catch 4-6 pound bass in the spring months. Crappie & bluegill start to become plentiful in early-late spring when the water temperature changes. Trout are caught and enjoyed year round in Tenmile Lakes. The Oregon Department of Fish and Wildlife stock Tenmile Lakes 2-4 times a year with hatchery bred trout.
Tenmile Creek is perfect for salmon, steelhead, sea run cut throat, and Chinook. The Chinook begins running up stream from the ocean about September and continues to run through the month of November. Soon after that the steelhead begin to make their appearance. Spring will bring another opportunity for the avid fisherman to try their luck again for these same species.
Approximately one half mile downstream from the lake, and located off highway 101 is Spinreel State Park. Although the park is best known for its access to the 40 miles of recreational sand dunes, it provides one of the best entrances to the creek. Spinreel also hosts five of the best fishing holes on the creek.
Coos County's Tenmile Lakes Day Use Area is located on South Tenmile Lake and provides provides four boat ramps, docks. fishing pier, and fish cleaning station. It is also a great place for the family with gazebos, picnic areas and ample parking with over 200 boat-trailer parking slips as well as vehicle parking.
Ocean fishing access is only a few minutes drive up Highway 101 to Winchester Bay where a variety of guide and charter services can be secured, or if you like bring your own boat and use the public launch to venture on your own.
Tenmile Lakes Fishing Report
Get up to date information from local fishermen on whats happening with the fishing, best areas of the lake to fish, what baits or methods are working on what species.
Tenmile Lakes Weather Report
Find out what the weather is like today and what it will be like during your planed visit to the area.
Lakeside Fishing Services
Lakeside Hardware & Tackle
North Lake Ave
Osprey Point Marine
1000 North Lake Ave
Lakeside Marina
915 N 9th
Lakeside Bass Tournaments
"One Big Fish" tournament
Osprey Point 541-759-2801
April
Bassin' for Bucks
May
The Tenmile Open
Tenmile Bass Club 541-759-3448
August